ABOUT

HEAD LICE
HEAD LICE ARE SMALL WINGLESS INSECTS

Like all insects, they have six legs, which they use to cling to the hair. Head lice only live in human hair. Creatures of comfort, they often prefer the warmest places such as behind the ears or on the neck.

LICE CAN BE QUITE TRANSPARENT

This makes them difficult to detect in hair. An adult louse is 2-4 mm long: approximately the size of a sesame seed. The females are larger than males. Once they have fed on their victim's blood, lice turn brown-red.

LICE FEED ON HUMAN BLOOD

They do so four to eight times a day. They bite through the scalp and inject their saliva. In some individuals, this irritates and causes itching. Away from human hair and therefore away from blood, they can survive up to 3 days.

NITS ARE NOT LICE

Nits are the empty shells of hatched nymphs or eggs that haven't hatched. Have you found nits in your hair? This does not necessarily mean you are infested with lice, but the chances are high that they are about to hatch and you will be infested.
LIFE CYCLE
OF A LOUSE
LICE REPRODUCES VERY QUICKLY

After mating, the adult female louse can produce 5 to 6 eggs per day. The eggs, which look like dandruff, stick close to the scalp on the root of the hair. They are very difficult to remove.

THE EGGS HATCH AFTER 7 TO 10 DAYS

These "baby lice" are called nymphs. After 9 to 15 days, nymphs become mature adults ready to lay eggs.

LICE LIVE 3 TO 4 WEEKS

In that time, female lice may lay about 126 to 168 eggs.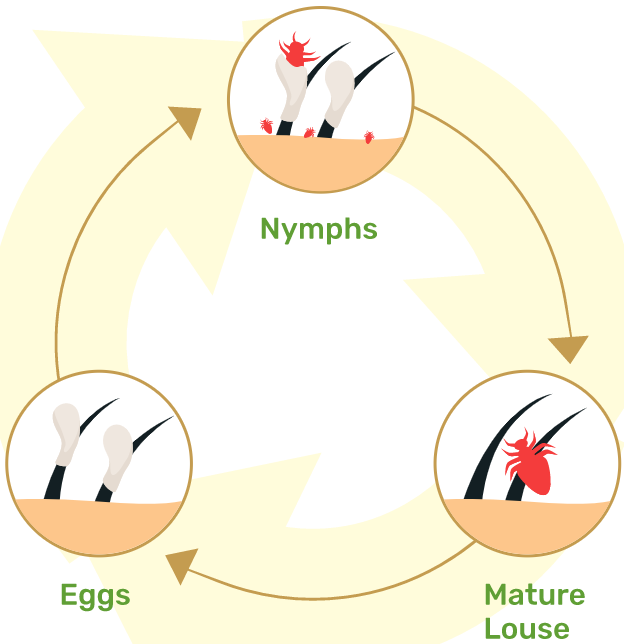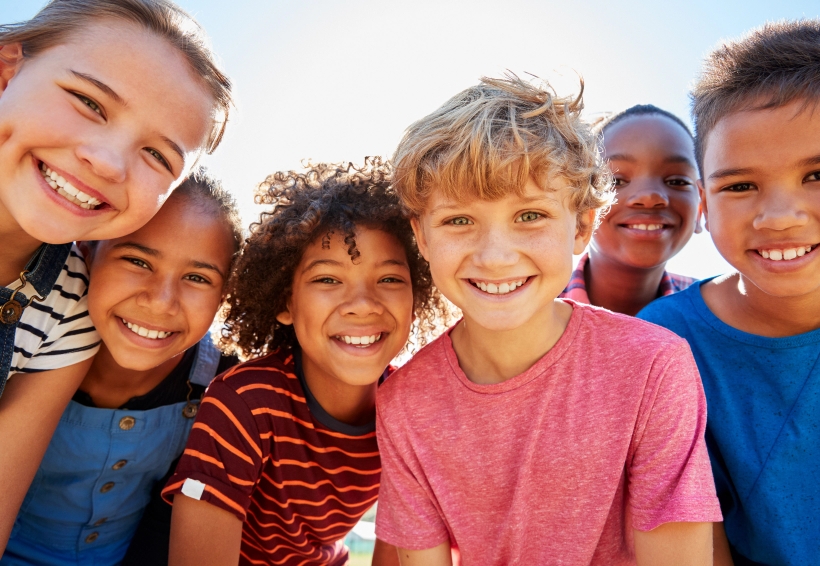 ANYONE CAN GET LICE
Lice are found everywhere. They feel at home in both clean and dirty hair alike.
LICE MAINLY SPREAD THROUGH CONTACT BETWEEN PEOPLE
Usually directly from one head to another, while playing or during sports. That's why children with long hair run a higher risk. But beware; lice can also be transmitted via a scarf, a hat or a brush.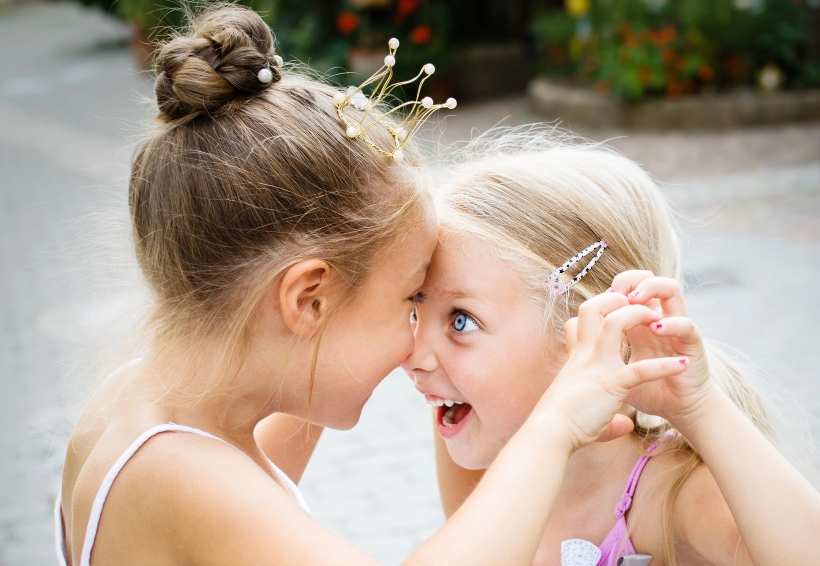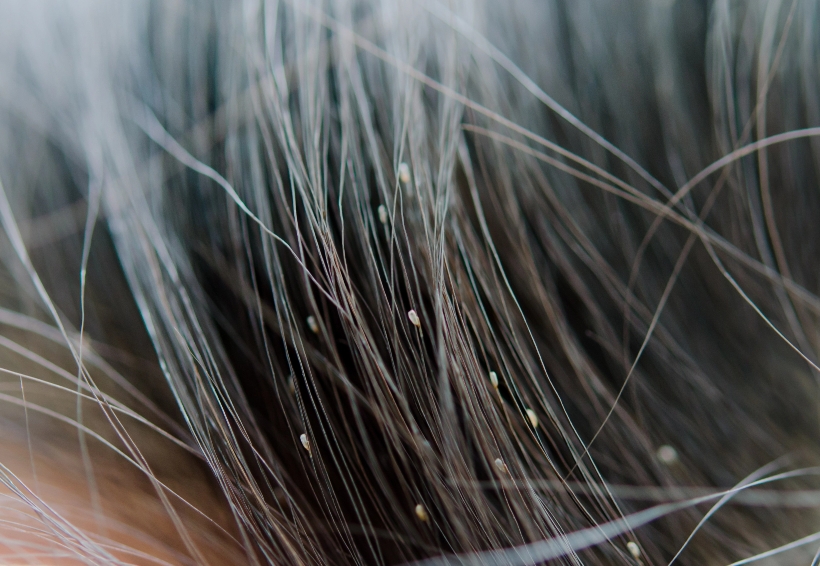 YOU CANNOT BECOME INFESTED BY NITS
Nits (lice eggs and the remains of lice eggs) don't move. Only lice move.
LICE LOVE SCHOOLS
That is where they find lots of children together. Playing children come into close contact with each other which is why they are affected by lice more often than adults.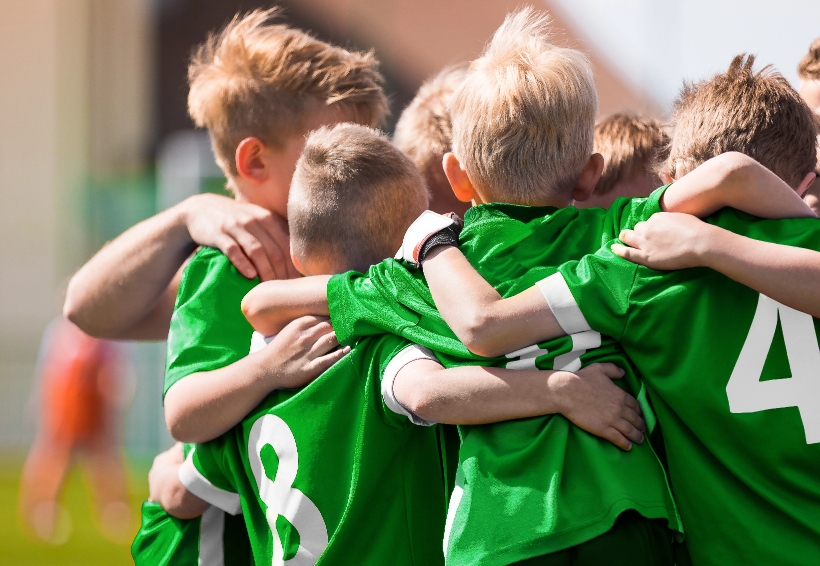 DETECT
WHEN TO CHECK?

If head lice are signaled at school or in the day-care centre, vigilance is required. One must also watch out at home. Regularly check every head in the family. Has someone started scratching, especially behind the ears or in the neck area? Check for lice immediately.

IT IS IMPORTANT THAT YOU DETECT A LICE INFESTATION EARLY

That makes it easier to combat them. What's more, you'll also avoid new infestations.

HOW TO CHECK?

Lice are difficult to see. They hide as soon as they sense movement. Nits (lice eggs and their remains) are easier to find. They can be quite transparent and may resemble dandruff, but they are much more difficult to comb out of one's hair.

Use a fine toothed comb, such as Zap® comb, to check for the presence of head lice. Ensure that you perform the check in a good light as lice can be difficult to see. Check and treat each member of the household at the same time to avoid the possibility of re-infestation.

It is easier to check dry hair. First, comb through the hair with a wide-toothed comb to remove any tangles. Check behind the ears and the nape of the neck first as this is a common hiding place. If none are found, proceed to section the hair and carefully pass the nit comb along the hair, from the scalp right to the ends. Inspect the comb for lice and eggs. Wash the comb before checking another person.

CONCLUSION
Only living lice indicate an infestation. You only found nits? This may indicate a previous infestation. It doesn't necessarily mean that you currently have lice.
PREVENT
Staying one step ahead.
IF YOU DON'T HAVE ANY YET

When head lice are detected in your environment, you can do a few things. Tell your children not to exchange clothing such as scarves or hats with friends. Braid or tie up long hair. Avoid head-to-head contact during play.

TO PREVENT RE-INFESTATION

Check all family members on the same day. Disinfect the area: wash the bedding at 66°C (150.8°F). Use the dryer on the hot setting. Vacuum the whole house and the car then empty the vacuum and throw the debris away. Lice can only survive for up to 3 days off a human head.

TO AVOID INFESTATION

Treat each member of the family at the same time.

EDUCATE YOURSELF

AGAINST MISCONCEPTIONS,


EMPOWER CHILDREN

AGAINST LICE
Enabling parents
Lice at school is not the school's fault. Lice are everywhere and have always been around. It is best to communicate with parents regularly rather than only if lice are detected. This avoids panic reactions.
The following messages must be clear for parents:
Every school has a few children with a number of typical childhood illnesses or infections at all times. Head lice are one of them.
Reassure parents: head lice are not a direct threat to health. They are treatable as long as the treatment's recommendations are followed correctly.
Assure them that the school will tackle a lice outbreak discreetly. Tell them that you will not inform parents about individual cases unless it regards their own child.
Engaging children
Just like for adults, it is better to talk about head lice before they are detected.
First break the myth that head lice only live in dirty hair. Children don't have to be ashamed about having lice.
Explain it as a normal infection that is treatable. Children are curious: that's why you should explain what a louse is (show a few photos), how to detect them and how to prevent them.